Give Your Office Building an Audio Video Revamp
Stunning Audiovisuals Inform and Communicate Throughout Your Company Space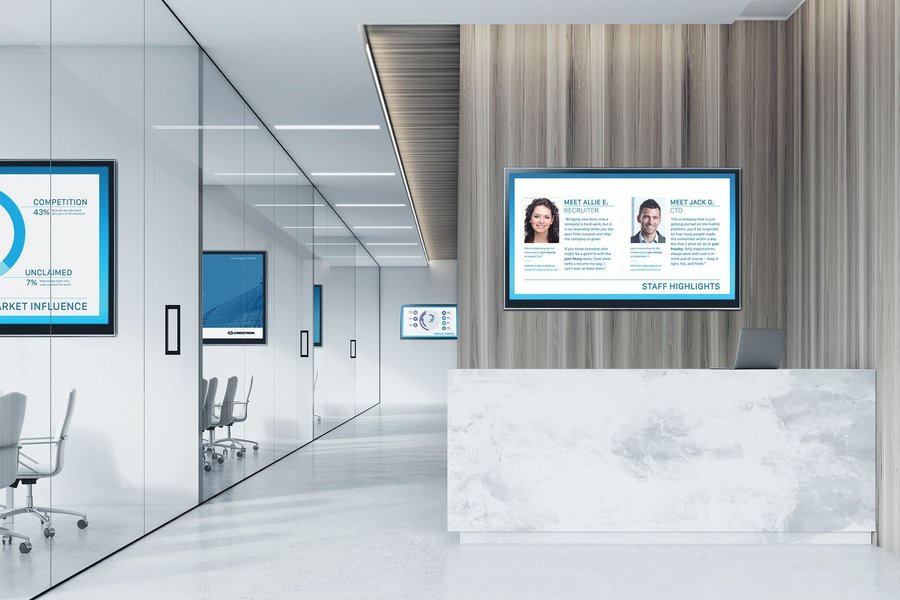 It doesn't matter what size your office space is: It can certainly be hard to communicate effectively from one end of the building to the other. When you are separated by walls or even in an open-office environment, trying to send out announcements or important video files via email only gets you so far.
So, how can you make sure information and video presentations effectively reach your entire company? With a top-notch building audio video distribution system in your San Jose, CA office, you can ensure every employee hears and sees important communication no matter where they're located.
What's more, a building audio video distribution system enhances conference room operations and helps boost morale with easy delivery of motivational messages or company photos. We'll dive into these many benefits and features below. Keep reading on for more!
SEE ALSO: What is the Best Way to Control Your Office AV System?
Make Clear, Effective Announcements
Need to share an important message company-wide regarding new procedures or an all-staff meeting? Or maybe you just want to share to the team that there are snacks available in the kitchen. No matter the type of announcement, audio video distribution can help you make it quick and easy.
With in-wall and in-ceiling speakers installed throughout your building that connect to a centralized distribution system, you can utilize an intercom to give updated announcements when needed. Then just as easily, switch to mellow, working music that promotes productivity and morale—all from a single touchscreen or remote. Easily divide your audio into distinct zones that can be controlled separately or simultaneously. Speakers blend in seamlessly with your décor, ensuring you and your employees only hear your audio, instead of seeing it – while also preventing any unsightly wiring or obtrusive products that distract your clients and staff.
4K flat screens throughout the whole office provide another way of communicating with a limited impact on décor or distractions to your everyday business operations. Video distribution significantly reduces the number of sources needed for each display within your office space and hides the necessary equipment in a storage closet or cabinet. Distribute content to every display from a single video source. You can display daily announcements and updates for the company or even what's happening in the latest industry news. You can give a rundown of the newest employees, encouraging others to welcome them, or show off the latest promotional videos your staff has been working on. The options are endless!
Centralized Conference Room Systems
Distributed audio video throughout your office building can reach to all your conference rooms and is unified under one centralized AV system. With in-surface speakers and 4K screens or projectors in your boardrooms, you can create a non-stressful way of presenting and setting up meetings.
Schedule which boardroom or huddle room you're booking for the day, and your claim will come up on the system that every employee can access. You'll avoid overbooking headaches or multiple groups vying for one space at a time.
Make meeting presentations less stressful and more productive with streamlined audio video solutions. Communicate with employees across the country with conference calls that never glitch or delay in audio or video stream. Impress clients with a conference room AV system that features one-tap control of your display, speakers, room lighting, and more.
Entertain in Lobby and Beyond
Imagine making your workspace not just a place of production and efficiency, but also one that is inviting and welcoming. Clients and employees can now feel eager to return every time they leave for the day. With TV displays showing music videos, compelling promotional videos, or even the newest popular drama series, you can liven up your lobby, communal spaces, and more.
Distributed audio lets you pump the jams in different parts of the building from a single controller. Distinct audio zones keep energetic music playing in the walkways and other areas where this type of audio can create ambiance and encourage conversation. In the main work area, softer background music can play to help keep everyone focused while drowning out distracting ambient noise.
Sound and visuals make a significant impact on your office space. Want to learn more about how a building audio video system can boost your company operations and morale in a variety of ways? Give our team a call or fill out our online contact form to schedule a no-obligation consultation with us. We'd love to hear from you!