What is the Best Way to Control Your Office AV System?
How to Make Technology Manageable for the Everyday User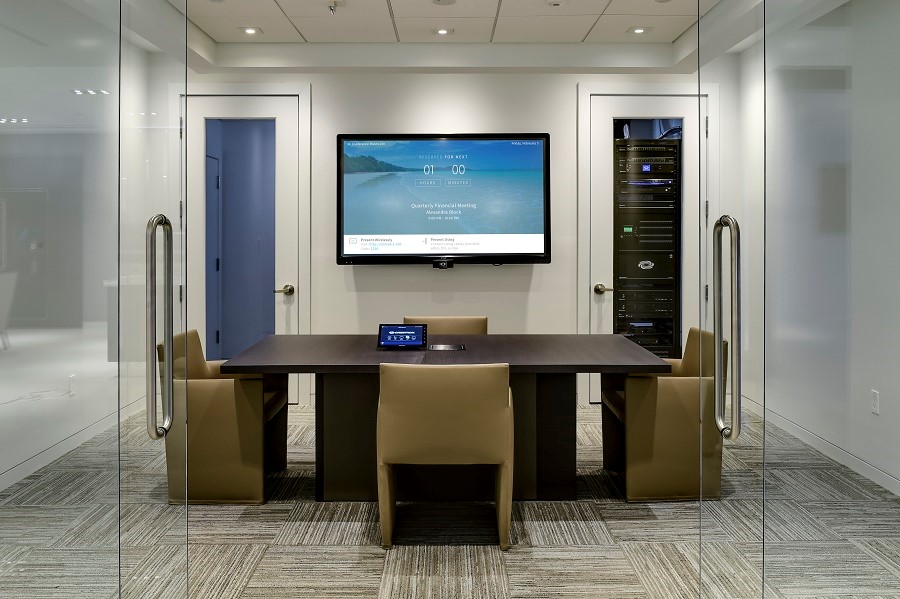 The one complaint we always get when people want to upgrade their commercial audio video system is that their current solution is too hard to manage.
They're tired of outdated tablets that no one in the office knows how to use. That is, except for the one overworked IT guy who's called in every time someone has a presentation or wants to change the playlist for the office's background music.
The good news is that it doesn't have to be that way. You can integrate an AV control system that is easy for the everyday user to understand. How can you make sure of that? Because you're the one designing it with your office's needs in mind.
In this blog, we'll be showcasing one of our favorite control partners: Crestron. They offer the most comprehensive options when it comes to managing your San Francisco space. Below we highlight some of our favorites:
Dedicated Touch Screens
Start with a dedicated touch screen for your office waiting area or conference room. These range in size so they can sit on a desk or mounted on the wall. Invest in multiple screens knowing the same user interface will be available in each, so you don't have to learn new controls for every room.
SEE MORE: What Are the Best Business Solutions for Wireless Presentations?
Are you tired of having to memorize a long list of AV commands? How are you supposed to remember AV1 is for conferences and AV4 is for the satellite TV? Don't worry, Crestron's touchpads include graphic menus, and you can choose the name for each component.
Crestron's TSW line of touchpads runs on a state-of-the-art processor for an incredibility fast and responsive navigation and control. No more waiting 15 minutes for your AV system to recognize your commands.
Dynamic Mobile Apps
Want to give your employees a little more independence when it comes to your AV system? Are you worried about the lone office touch screen going missing on a weekly basis?
Then mobile apps may be a better solution for your workspace. Employees can access the office sound system, conference room, and more from a mobile app on their smartphone or tablet.
These apps will showcase the same intuitive user interface that you worked with your AV specialist to design for your touchpads.
One of the most practical aspects of the Crestron app is the PinPoint Proximity Detection Feature which is also available on its touchpads. Your smartphone will recognize what room you're in and automatically adjust your menu to pull up the controls associated with that space.
It'll also immediately connect you to that room's Air Media so you can begin sharing content wirelessly as soon as you walk in.
Quick-Access Keypads
Do you have specific controls that you need to access often? Optimize your commercial audio video system with wall-mounted keypads so you can reach them quickly.
With a simple button press, you can adjust the volume, change the song playing through your in-ceiling speakers, or turn off all the AV equipment in the room.
Crestron offers a variety of keypads ranging in size, color and finish so you can find a solution that fits in perfectly with your office environment. Each keypad includes backlighting for added legibility and ease-of-use.
Just like your dedicated touchpads, these keypads are entirely customizable. You get to choose which aspects of your AV system you'd like to highlight. Label the buttons according to the names or commands that make the most sense to you.
Want to find out which control options you should include in your San Francisco office? Reach out to Western Audio Video for a custom-designed AV solution.